Ten Months Later
Just ten months after Druid crashed, we ride him!
---
April 3, 2004
This was April 3, 2004. It was nine and a half months since Druid's coffin bones sank and penetrated the soles of his feet. We were not in a hurry to ride him, but he was doing so well. Haley had been hand walking him, and he was showing no signs of stress. None!

We booted him in the Boa Boots that had been sent to me from Easy Care, Inc. Away we went. I was given the privilege of the first ride, so it is me you see sitting on Druid.
Haley is on her half -Connemara Gelding, Pie.

OK, Druid briefly lost a boot, but look at what we were riding through. It was muddy and steep. We found the boot and continued down the path.Not every horse should do this much on the first ride, but Haley had been hand-walking Druid. He was not foot sore after his walks, and I was seeing no ill effects in his feet.
Druid was willing and happy to move forward during the whole ride. He even wanted to go bother the cows.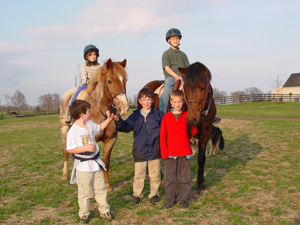 Everyone was excited. Our kids were happy to have Druid doing so well.
---
April 14, 2004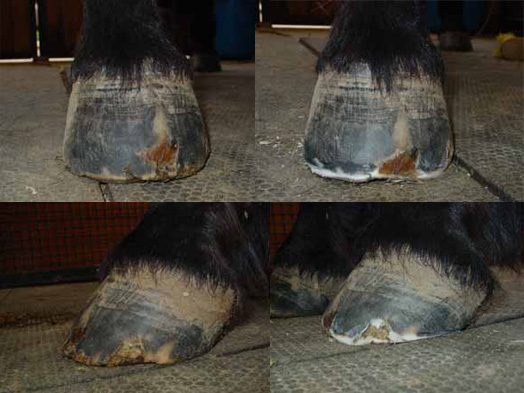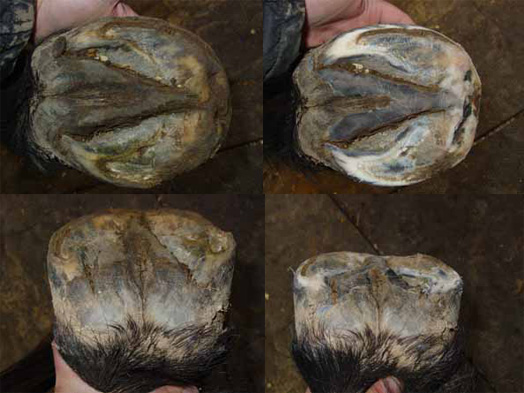 This is Druid's left front foot. The old abscess holes are finally at the bottom of the foot. The walls are cracking out because of this. The sole is also kicking out the final bits of abscess. That is the black sooty look you see in front of the frog.
Druid's soles were still a strange soft consistency. He was long way from normal.Haley was doing an excellent job maintaining him and keeping his diet restricted.
Druid was living in a dry lot, getting low sugar hay, beet pulp without molasses and vitamins and minerals. He continued doing best when he was regularly exercised.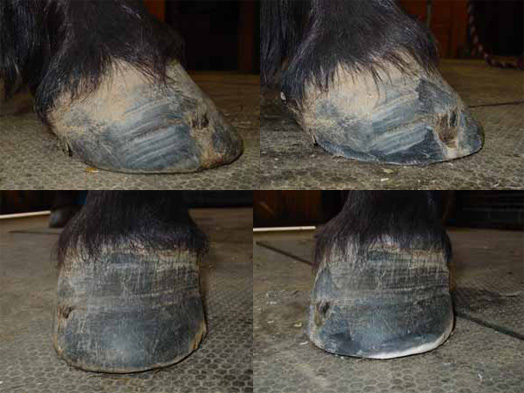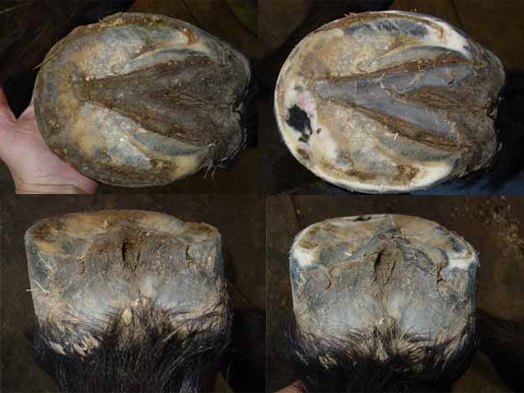 Here is Druid's right front foot. The hole in the sole corresponds to the abscess hole seen in the hoof wall. In the next series of pictures, pay attention to how this looks as it grows out. It is alarming if you haven't seen this before, but it is perfectly normal. If your horse has something like this, he will be fine.
As the abscess hole in the sole and in the wall get closer to the ground, it will bust out and large chunks of wall will come off. It is fine.